I have been told quite a bit by others that I will have to find a "real" job. Well I am here to say that I DO have a real job. When I would get told this, it would often hurt a little but then I think they must not understand what it is I do at home since I don't have a specific building I go to with set hours. I have absolutely been blessed with this coaching opportunity and the ability to work from home and be with my kids. I get to take them to school, pick them up, attend events at school and fit work into my lifestyle…the flexibility has been a HUGE blessing to me and my family.
I get the privilege of helping, encouraging and motivating people every day to get healthy/fit. I LOVE to offer online challenges and award prizes to those that work the hardest! I also have a wonderful team that has joined me with the same mission of helping others and we interact on a daily basis! It is just too fun!
I didn't know about coaching until I discovered Turbo Jam when I was trying to lose my baby weight after having my daughter. I was working as a personal trainer in a local gym and felt I needed to be an example of getting fit after having kids. I lost my weight but I wasn't as "tight" as I wanted to be. I connected with my upline coach and she told me HEAVY weight training was what I needed. I purchased ChaLEAN Extreme and went on another journey. I felt better and tighter.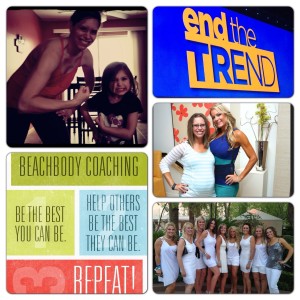 The coach I was working with approached me about an income opportunity that she thought would benefit me since I had success on the programs and was recommending them to others. She told me what being a "coach" was all about and I was undecided for a couple months. I finally decided to just jump in and try it. What did I really have to lose?
It turned out to be a great blessing in our lives. I have been able to quit my job and stay home full time and still help others in fitness all while making a FULL TIME income! I NEVER thought that would be possible! We have paid off ALL consumer debt, done home improvements and we are now saving for a new home. I have also met so many wonderful people that I have helped and also who have joined my team partnering with me with the same mission. BUT, I didn't take advantage of it right away. I didn't understand the potential of the business I had right in front of me. It took me a while before realizing what I could be doing.
I have been blessed to see others on my team soar and achieve their goals like being able to stay home, saving for new homes, getting new cars, contributing to the grocery bill, mortgage, or just having some extra spending money!
The rewards and trips have been an added bonus as well!! What is SOO cool about it is that ANYONE can do this! You just have to have a passion for helping others and be on your own fitness journey—THAT'S IT!
I am so glad I stepped off the ledge and took a chance on having an at home business even though it may not be viewed as "normal".
I DO have a REAL job 🙂